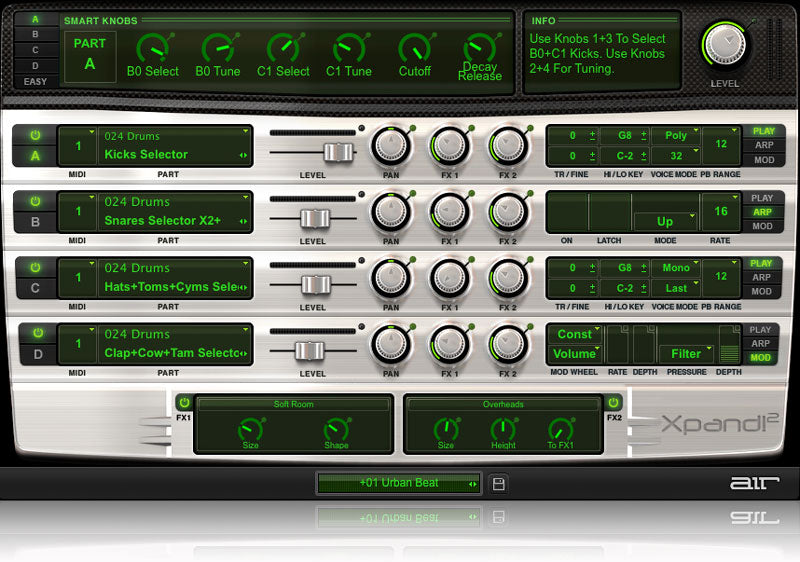 Top 5 VST's for UK Drill Beats In 2021
Do you want to know what the best VST's are for making UK Drill beats in 2021? In this article, I'll be breaking down the top instrument and effect plugins which are essential for making fire Drill productions. I'll be judging them by versatility, quality, ease of use and price
UK Drill has been evolving at a rapid rate over the past few years and there are still many roads it could take. It wasn't until I started creating free tutorials and sample packs for the Producer community that I realised this sub-genre of Hip-Hop not only had a big audience in the UK, but in places such as India, France, South Africa, Italy and many more. But what's the secret behind the dark & eerie sounds the world is falling in love with?
 5. Bitsonic Keyzone Classic
I'm going to start with a 100% free plugin – Keyzone Classic. Keyzone is a must-have plugin for any Producer. If you're familiar with UK Drill beats you'll know there's a piano in the majority of them, and sometimes stock sounds just don't cut it.
Keyzone is a sample-based piano which means it's taken from real recordings (not synthesised) and comes with 5 amazing pre-sets:
Piano from Keyzone 1

Yamaha Grand Piano

Steinway Grand Piano

Basic Electric Piano

Rhodes Piano
My personal favourite is the Yamaha setting, I've used it in a number of my beats and the quality is insane considering it's a free plugin. If you're a Producer on a budget and you need a new go-to piano this is a no-brainer.
Keyzone also gives you the flexibility of adjusting the volume envelope, detune, reverb and LFO settings. It's a very simple and extremely easy to use, sometimes it's best not to overcomplicate things!
4. ReFX's Nexus
Next is Nexus, a staple plugin in any Drill Producer's DAW. Nexus has served Producers since 2007, it was a key plugin for many Southern Trap beatmakers and although plugins such as Omnisphere seemed to take over for a while, Nexus found it's way back into the Hip-Hop scene within Drill beats, especially Nexus 2.
It's most commonly used for Pianos and Pads in Drill beats. Legendary UK Drill Producers such as M1 On The Beat and MK The Plug have demonstrated their use of Nexus in beat breakdowns and tutorials. It seems like the Grand Piano is a go-to pre-set for many and although it's a synthesized plugin, mix it with Half-Time and you get instant dark vibes!
What's loved about Nexus is the effects and manipulation tools within the plugin. Many of the pre-sets are armed with a lot of reverb and delay but it's easy to dial back the amount to your taste. Try bringing up the attack a little for a smoother, darker sound. Once you get the sound you like you can save the preset for future use or to include in your custom drum kits / pre-set packs for other Producers (you'll find Nexus pre-sets in almost all UK Drill Drum Kits!)
Nexus 3 hit the market in November 2019 and you can grab it for just short of £200 for the starter kit. The prices go up to £2000 depending on the number of extensions and presets you want which in my opinion is quite expensive for the average Producer. However the started package includes 2,750 pre-sets so that'll be more than enough to get you going!
3. Sugar Bytes Effectrix
Man, I love this plugin. Whenever I want to instantly flip a melody or loop I throw on Effectrix with the reverse pre-set. What makes reversing melodies unique with Effectrix is that it reverses in real-time and you can adjust the timing, mix level and more to get a crazy bounce!
Effectrix isn't just a reverse tool though, it's a multi-effect tool with endless capabilities. Think of any effect you could add to your sounds such as reverb, delay, chorus, filters, looping and more. Now take those effects and add them to any section of your sound either piled on top of each other or separated. Then adjust parameters for each effect such as the mix level, frequency, attack/decay and more.
Before tools such as this, you'd need to add separate plugins for each effect and then automate them all to turn on and off wherever required. Effectrix does it all for you. I mainly add it to melodies but try adding it to a hi-hat pattern and just see how creative you can get with it. I honestly can't big up this tool enough, and for less than £100 it's a no-brainer if you have the money. 
2. Air Xpand!2 
In 2nd place, we have Xpand!2 by Air. Xpand is a little similar to Nexus 2 with its wide variety of synthesized sounds and pre-sets, manipulation tools and user interface although in terms of quality I think Xpand!2 wins.
This powerful plugin is packed with over 2500 pre-sets ranging from pad and pianos to percussion and drums. In my personal experience the pad presets are some of the best I've come across in any VST – they're my go-to whenever I need a warm luscious sound to thicken up my melody.
For UK Drill, the pianos are used almost as much as in Nexus but overall I'd say Xpand!2 wins on versatility. Not only are the pads and pianos amazing; the strings, choirs and brass are sick for layering your melodies.
With Xpand!2 you can also stack your sounds within the plugin, so if you want to layer a piano with a pad you can do so with a couple clicks to save CPU (you get up to four stereo instruments per patch).
The retail price is £79.95 which in itself is a bargain, but if you were lucky enough to grab this bad boy in the sale you would've picked it up for the less than £5!!! If you ever see this plugin in another sale DO NOT MISS OUT.
1.Cableguys HalfTime
In first place we have the legendary plugin HalfTime! If you don't know about HalfTime yet I really don't know what to say other than the fact that you need to wake up. 
HalfTime literally changed the game in Hip-Hip. Ever since people got their hands on this tool back in 2007 they haven't stopped using it, and in UK Drill beats it's essential! "Add this tool to transform your audio into a dark, downtempo of itself" is how the creators Cableguys describe its use, and that pretty much hits the nail on the head.
HalfTime does it what it says on the tin, it halves the speed of your track in real-time without having to manually adjust your audio file. You can also change the loop mode, split the frequencies to only slow down the low's or high's, adjust the mix level, the fade in / out times and even smooth it out to avoid any unwanted clicks or pops.
Whenever you hear a dark Drill beat I'd put money on HalfTime being involved in the Production. You can get a similar effect with Grossbeat if you're an FL Studio user but for ease of use, price and control I'd go for HalfTime any day.
Speaking of price, this plugin is less than £10! They even offer a free demo but don't bother wasting your time, trust me on this one when I say it's more than worth it.
Conclusion
There's several cheap instrument and effect plugins to get started with UK Drill beats however I know not everybody has the luxury of spending money on them, but if you have £10 spare grab yourself HalfTime and Keyzone and you'll have all the necessary tools to create industry-standard UK Drill productions.
Most of these are based on my personal experience and how I've seen other UK Drill producers use their tools. What plugins do you use for your own beats?